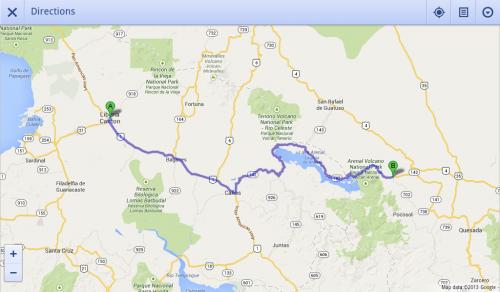 Km: Liberia – Fontana
Tempo: sol e a tarde nublado mas bem calor
Temperatura: min de 22 e max de 32
Um comentário que não fizemos ontem em relação aos chuveiros aqui… Escolhemos o hotel principalmente pelo fato de ter água quente… E adivinha o que aconteceu quando a Liliane foi tomar banho… O chuveiro elétrico não funcionou. Sem nenhuma outra opção, a Liliane teve que tomar banho em outro banheiro e pelo menos nos deram um desconto. Vai entender esse povo… Mas agora aprendemos e temos que perguntar se tem água quente e se funciona!
Acordamos cedo pois hoje paramos para trocar o óleo da moto. A luz do nível de óleo baixo já tinha acendido ontem, então ao invés de completar resolvemos logo trocar pois íamos precisar trocar de qualquer forma nos próximos dias. Óleo trocado, podemos seguir viagem.
A Pan Americana no trecho entre Liberia e Canas está cheia de obras. Na verdade muito ruim de dirigir pois tem muito caminhão e além do mais devido às obras o trânsito para muito. E para ajudar o calor mais uma vez estava forte.
Quando pegamos a estrada que vai para La Fontana foi um alívio, além de ter bem menos tráfego a estrada é linda. Passamos em alguns pedaços de mata fechada, muito lindo. Estava bem agradável e se tem vistas lindas do vulcão Arenal e do lago Arenal também. A estrada tem muitas curvas e pena que estava um pouco molhado e chovendo em alguns trechos. Mesmo assim aproveitamos e paramos em alguns trechos para tirar fotos.
A intenção era de conhecer Monte Verde, porém esta não tem as águas quentes que queríamos e vai ficar para a próxima vez. Fomos então em direção a Fontana, próximo ao Vulcão Arenal, onde existem muitos hotéis e locais com águas quentes. Pesquisamos alguns, sendo que existem alguns bem caros, chegaram a pedir $220 dólares por uma noite sem café da manhã! Nós decidimos pelo Montaña de Fuego que cobrou razoáveis $70 com direito a água quente, café da manhã e com cabanas com vista maravilhosa do vulcão Arenal.
E realmente foi uma boa escolha. As cabanas são super charmosas com varanda de frente para o vulcão… E as águas quentes muito boas, apesar de não serem grandes as piscinas. Realmente aproveitamos! Ficamos quase a tarde toda nas piscinas e relaxamos bastante, pois temos que acelerar nos próximos 2 dias para chegar a tempo na cidade do Panamá para despachar a moto para Colômbia.
Pois é… Muita moleza :o)
Mileage: km Liberia – Fontana
Weather : Sunny in the morning and overcast in the afternoon
Temperature: min de 22 e max de 32
A comment that we didn't make in relation to showers here… We chose the hotel mostly due to the fact that they have hot water… And guess what happened when Liliane tried to have a shower… The electric shower didn't work. Without any other option, she had to shower in another bathroom but at least they gave us a discount. Go figure this people… We learned that now we have to ask if they have hot shower and if it works!
We woke up early in order to change the bike's oil. The low oil light was lit yesterday and instead of just competed we decided to replace it as we've had to do it anyway in the next couple of days. Oil changed, time to hit the road.
The Pan American Highway between Liberia and Cana is in construction. It is really bad to ride there as there are lots of trucks and due to construction, lots of stops. And to help the heat was intense.
It was a relief when we took the road to Fortuna. It had a lot less traffic and the road is gorgeous. We went by some forest areas, very beautiful. It was very pleasant and we had great views of Vulcan Arenal and from Arena lake. The road has lots of turns and it was a shame that it was wet and raining in some stretches. But even with that we enjoyed and stopped a few times to take pictures.
The original intention was to visit Monte Verde. However it does not have the hot water springs that we wanted, so it will be for next time. So we went in direction to Fontana, next to Volcan Arenal, where we could find lots of hotels with hot water springs. We researched some expensive ones, some asked $220 dollars for one night without breakfast! We decided for Montaña de Fuego that asked for reasonable $70 with hot water springs, breakfast and great view of Volcano Arenal.
And it was a great choice. The cabins are very charming with a varanda facing the Vulcan… And the hot water spring is very good, although not very big. We really enjoyed! We stayed the whole afternoon in the pool relaxing a lot, as we have to speed up in the next 2 days to arrive on time at Panama City in order to ship the bike to Colombia.
So… Lots of easy times :o)